Sued by a Debt Collector? Stand Up and Fight Back
Bogus debt collection lawsuits have become big business for unscrupulous lenders and down-stream debt collectors. All too often, borrowers do not fight back against abusive debt collection practices. But when they do, it can be bad news for bad actors. Last week a Kansas City jury awarded $82,000,000.00 in punitive damages against debt collection firm Portfolio Recovery Associates. The dispute began over the defendant's unlawful attempts to collect a mere $1,130.14 in original debt, and became a nightmare for the borrower. You can read this extraordinary story here.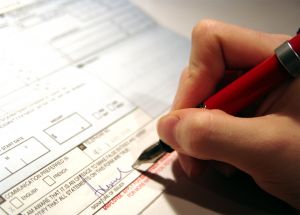 Elsewhere on this blog, we have written about a variety of illegal debt practices: the attempted collection of stale debt (a practice know as "zombie debt"), failure to give post-repossession notices required by law, failure to produce the underlying paperwork to support a debt collector's claim, and other abuses.
In short, there are many defenses to debt collection actions.
If you are sued by a debt collector, remember these important tips:
First of all, do not ignore the summons and complaint. If you are served with a lawsuit, do not give up before getting legal advice. If you do not show up in court, that means you default. The debt collector automatically wins its case and takes a judgment against you. You have given up your right to challenge the debt. The lender might then try to garnish your wages or bank account. Even if you do not have an attorney, be sure to appear in court on the scheduled date. Politely ask the judge to postpone or continue the hearing while you find an attorney. Even if you owe some amount, you night not know if the amount demanded is correct, and you might not know what company is entitled to collect it.
Fighting illegal debt collection requires some knowledge of the laws that provide a defense. Thus, your chance of defeating a lawsuit are much greater if you have a lawyer on your side. Most counties have a phone number listed for legal referral services and free legal clinics, or private consumer lawyers who handle such cases. There are excellent attorneys who handle such case on a "contingency fee" basis, meaning the attorney only gets paid at the end if the case is successful, so you should never pay a lawyer up front just to meet with you a first time.
Debt collection notices that come in the mail are designed to look official and scary. Some times they have lots of red ink, and even direct or indirect threats. Robo-calls to your phone — and particularly cell phone — can also be illegal harassment. These bullying tactics do not necessarily mean the debt was valid in the first place, or that the company demanding payment is the entity that can clear up the debt or your credit. Many people end up paying more than one company for the same debt.
Debt collection is a major industry in California and through the United States. Debt collection companies buy bad debts from credit card or finance companies for a fraction of their face value. They make a tremendous profit by collecting the debt in full, plus interest, plus fees. However, when these companies hastily buy the accounts in bulk, they often do not purchase the documents they need to prove their case in court, such as the contract, an accounting of the alleged balance, and past payment history. Because very few people get legal advice, debt collectors win most cases by default. This is a travesty of justice and often a tragedy for the people involved.
California has a host of good consumer laws to protect borrowers against abuses in the finance industry. You just have to know where to find them. The more consumers fight back, the more predatory lending practices will disappear.
Get in Touch
1

Free Consultation

2

Over 100 Years of Combined Experience

3

Obtained Over $300 Million in Debt Relief
Fill out the contact form or call us at
(800) 520-4525
to schedule your free consultation.