New York Times Exposes Dark Side of Arbitration
The New York Times has published an in-depth, 3-part series lambasting forced arbitration of civil disputes. The piece is the result of months of impressive investigative journalism, during which reporters plowed through documents from more than 25,000 arbitrations that took place from 2010 – 2014. The team of top reporters conducted hundreds of interviews of participants, lawyers, arbitrators, and judges in 35 states. Concluding that the effort had "uncovered many troubling cases," the articles explain the unfairness of the secretive system of private judging in examples from case after case after case. These troubling cases included "everything from botched home renovations to medical malpractice."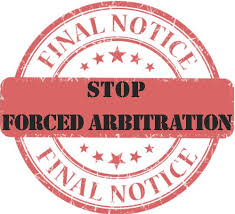 Part I of the series, entitled "Arbitration Everywhere, Stacking the Deck of Justice" appeared Sunday November 1, 2015, followed by "In Arbitration, A Privatization of the Justice System" on November 2, and "In Religious Arbitration Scripture Is the Law " November 3. The series begins here.
Together the articles explain in plain language the real harm corporations and other powerful insitutions manage to achieve by controlling the language of fine print in everyday contracts. It should be a huge wake-up call for the American public. The system is designed to strip consumers and employees of their rights to sue corporations for serious misconduct – fraud, car safety defects, sexual harrasment, workplace abuse, harmful drugs, tainted food, you name it. Finally, the mainstream media has taken on corporate power in a way that most politicians have shied away from.
Part III of the series demonstrates a little-known and unsettling twist on the issue. Religious institutions have begun their own private arbitration programs, and not necessarily only for those practicing that faith. What if the fine print of an employment contract said that in the event of a dispute, the parties would submit to arbitration conducted by elders applying sharia law? If that sounds far-fetched, the Times reports that a court enforced a clause requiring people leaving Scientology to arbitrate their claims before a panel of Scientologists. The plaintiff called it a farce. Demand for Christian arbitrations is tucked way in thousands of contracts, not just those involving the churches themselves, but goods and services as diverse as hardwood floors and group homes. It all sounds a bit crazy. However, to the people whom the New York Times interviewed it was no joke, but a bizarre reality.
The entire New York Times series is a must-read, because it reveals a widespread effort on the part of corporations and other institutions to create and control an alternate system of justice, forcing Americans out of courts where the civil justice system has evolved over centuries to provide safeguards against biased judging and corruption. Courts themselves have failed to stop the practice. The political process has failed to stop the practice. But public opinion is beginning to turn, and the New York Times article is a convincing voice for change.
Get in Touch
1

Free Consultation

2

Over 100 Years of Combined Experience

3

Obtained Over $300 Million in Debt Relief
Fill out the contact form or call us at
(800) 520-4525
to schedule your free consultation.