Federal Court Approves BMW Z4 Cracked Wheels Class Action Settlement
The Honorable Vincent Chhabria of the U.S. District Court (Northern California) has granted preliminary approval of a class action settlement, which will provide BMW owners and lessees significant compensation for past repairs and the promise of no charge for future repairs of certain cracked alloy wheels in its popular sports car model Z4.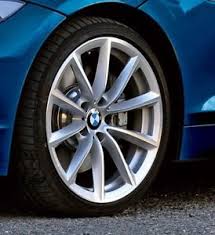 For years BMW refused warranty repairs for cracks in the metal alloy used in its Style 296 (sometimes described as "V-spoke") wheels in the Z4 models, even though it had been sued in other actions concerning a similar defect in wheels installed on its other model cars. For years owners complained of damaged tires, alignment problems and visible cracking, but BMW dealers refused to pay for the repair or replacement of such wheels under warranty. The fact that consumers were told they had to pay for new tires damaged by the defective wheels just made matters worse. Adding insult to injury, BMW often tried to blame the consumer for poor driving habits or even vehicle abuse, when in fact the metal alloy it used just couldn't take the stress of normal driving conditions. But many consumers just didn't buy BMW's "curb and pothole" excuse. And they did not like to be blamed for something that wasn't their fault.
Barry Jekowsky, who had leased a Z4 and had to pay to replace cracked wheels and damaged tires, filed this class action on May 10, 2013. Jekowsky alleged that BMW Z4s, equipped with 296-style wheels suffer from a common defect (namely, cracking under normal driving conditions during the warranty period), and that BMW consistently refused to offer the needed replacement, requiring consumers to incur substantial costs. He further contended that BMW's failure to disclose the subject wheels' tendency to prematurely crack, and failure to honor its own warranty, violated state and federal consumer protection laws. Plaintiff Jekowsky contended that the alloy used in the wheels was simply not strong enough to handle the stress of normal Z4 driving conditions and the particular tires they were made to support. Plaintiffs argued that the deficiency presented a safety problem as well as economic injury to the consumers.
Eventually BMW agreed to settle the nationwide class, for owners and lessees of 2009-2012 BMW Z4 vehicles equipped with Style 296 wheels ("Class Wheels"). This week Judge Chhabria issued an order granting preliminary approval of the class settlement . He also approved class notice along with a clear and simple claim form class members entitled to restitution must fill out and return to get money back. In addition. BMW has agreed to replace the cracked Class Wheels without charge in the future, if consumers bring their Z4s into an authorized dealer during the remainder of their factory new-car warranty. Notice will be sent out shortly. The Court scheduled a final approval hearing for October 29, 2015.
The law firms Kemnitzer, Barron & Krieg LLP and Chavez & Gertler LLP represent Jekowsky and Settlement Class.
Get in Touch
1

Free Consultation

2

Over 100 Years of Combined Experience

3

Obtained Over $300 Million in Debt Relief
Fill out the contact form or call us at
(800) 520-4525
to schedule your free consultation.