Dirty Diesel
Volkswagen and Audi have been caught cheating the American public. Big time. The scandal has shattered Volkswagen's populist image. Millions of cars are affected. Billions of dollars in fines are at stake. Car owners are furious. The German magazine Der Tagesspeigel reports that CEO Martin Winterkorn is out. Class action lawsuits, government penalties, and possibly criminal charges will follow. What, exactly, is going on?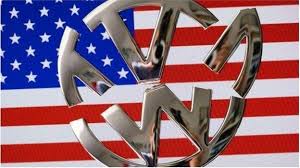 Last Friday, the Environmental Protection Agency sent Volkswagen AG, along with its affiliates Audi AG and the Volkswagen Group, an official Notice of Violation concerning its use of an illegal "defeat device", used to evade emissions testing. You can read that letter here.
The EPA explains, "These cars contain software that turns off emissions controls when driving normally, and turns them on when the car is undergoing an emission test. Known as a "defeat device," this design feature results in the cars emitting up to 40 times the amount of NOx emissions that the standards allow. NOx standards are in place to ensure public health is protected." The use of such a "defeat device" is highly illegal.
No sooner did this announcement hit the press than VW admitted its misconduct. That it is only now admitting its intentional and deliberate cheating practices is shocking. Although the scandal only just became public, VW knew it was caught as early as May 2014. And yet, it continued to install the devices on new cars being sold.
VW never thought it would get caught, and the fact that it did at all is a bit of a fluke.
Daniel Carder, a professor at West Virginia University's Statler College of Engineering, and team of five including two grad students, performed a study that found much higher on-road diesel emission levels for VW vehicles than what official U.S. testers were seeing. At first they couldn't believe the results, but confirmatory testing produced early evidence Volkswagen was cheating on U.S. vehicle emissions tests. That study was funded by the nonprofit International Council on Clean Transportation. They were actually looking for proof that diesel could be a clean fuel. The results caught even the testers by surprise. You can read more about the ICCT here.
"The testing we did kind of opened the can of worms," Daniel Carder, the mild-mannered West Virginia researcher who lead the investigative team, says. That is an understatement.
The study, completed in May 2014, was later corroborated by the United States Environmental Protection Agency and California Air Resources Board.
W has been heavily marketing its small diesel cars as the Clean Green alternative for years. But even as it was launching a media campaign to lure environmentally responsible buyers, VW was brazenly equipping more than 11 million vehicles with the deceptive device over a period of more than 6 years. The affected diesel models include:
Jetta (MY 2009 – 2015)
Jetta Sportwagen (MY 2009-2014)
Beetle (MY 2012 – 2015)
Beetle Convertible (MY 2012-2015)
Audi A3 (MY 2010 – 2015)
Golf (MY 2010 – 2015)
Golf Sportwagen (MY 2015)
Passat (MY 2012-2015)
Consumers can get further information from the EPA here.
Consumers can get information about legal cases filed in California by contacting the law firm at kbklegal.com.
Get in Touch
1

Free Consultation

2

Over 100 Years of Combined Experience

3

Obtained Over $300 Million in Debt Relief
Fill out the contact form or call us at
(800) 520-4525
to schedule your free consultation.