2016 VW Cars Quarantined as Scandal Widens
U.S. regulators announced this week that 2016 diesel Volkswagens will be quarantined at the port of entry after the beleaguered company disclosed those models contain additional suspect software that would deceptively help exhaust systems run cleaner during government tests. This software, called an "auxiliary emissions control device," is not exactly the same as the "defeat" devices discovered in 2009-2015 model VWs and Audis, which were the subject of last month's cheating scandal. VW says the 2016 device is different. Regulators say: not different enough.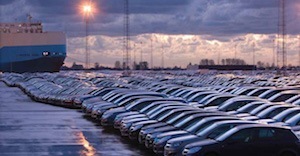 After disclosing the new "auxiliary" software to the EPA and California regulators on Sept. 29, Volkswagen hastily withdrew applications for approval to sell the 2016 cars in the U.S.
The revelation that Volkswagen and Audi used a "defeat device" to cheat on environmental testing shocked the car buying public and regulators in the US and Europe last month. This is not a mere technicality. Many are beginning to argue for strong punishment of the individuals at the apex of corporate management, in part because of the widespread harm to society as a whole. "We won't ever know how many people have died as a result of Volkswagen cheating on the emission controls of its diesel engines. But the pollutants emitted by diesel engines do kill just as surely as other poisons…" wrote editors in an opinion piece in the Guardian UK.
A looming question is whether VW is alone. Early research showed that other vehicle makes and models did not demonstrate the level of discrepancies found in VWs and Audis. But that testing is incomplete. Now, German sources report that European examiners are looking further. Europe's largest motor vehicle organization, the Bavarian-based Adac, performed new lab-based tests on a wide range of diesel models and found a surprising range of excessive NOx emissions. These new testing methods more realistically represent true driving conditions.
Although there may be no current evidence of using a "defeat device," there are several other auto makers whose emissions in TDI or "turbo diesel injection" engines are thought to exceed applicable regulatory standards. The testers are bound to be looking at other forms of "auxiliary" devises this time round. Adac is expected to take a closer look at the following makes and models: Nissan X-Trail 1.6 cDi, Jeep Renegade 2.0, Hyundai i20 1.1,Volvo S60 D4 and V60 Cross Country D3, Ford Focus 1.5 TDCi, BMW 520d, Hyundai Santa Fe 2.0 CRDi. These manufacturers' responses ranged from facial assurances that the companies abided by current testing methods to "no comment."
None of these European models are the subject of current sales restrictions in the United States. However, America can expect more rigorous testing of NOx emissions from the EPA and state regulators like the California Air Resources Board in the coming days.
Get in Touch
1

Free Consultation

2

Over 100 Years of Combined Experience

3

Obtained Over $300 Million in Debt Relief
Fill out the contact form or call us at
(800) 520-4525
to schedule your free consultation.